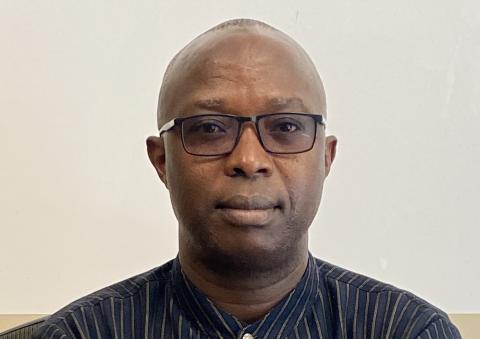 Introducing Bro. Charles Kimeu, SM, as he trains at NACMS to become a Marianist specialist!
Taken from the September edition of the NACMS Newsletter.
We are happy to welcome Bro. Charles Kimeu, SM, as he begins his yearlong training at NACMS to become a Marianist specialist.
Bro. Charles, with three brothers and two sisters, is the fourth child in a family of six. Originally from Mbiuni, Kenya, Charles learned of the Marianists through youth seminars, vocation magazines in Nairobi, and personal relationships with some Marianist brothers. What fascinated and glued him to the Marianists were the ideas that we are missionaries of Mary, the solid fervor for the mission, and that Marianists have one vocation, whether you are a brother or a priest. The sense of belonging to the Virgin Mary resonated well with Charles because he is from a family with a deep devotion to Mother Mary. His mother and grandparents strongly insisted their family belonged to the Virgin Mary, and Bro. Charles grew in this conviction and lives out his commitment daily to Mary.
As a Marianist Specialist-in-Training, Bro. Charles is engaging in a comprehensive experience of Marianist scholarship. This program includes participation in the Marianist History Course for novices, the Marianist Scholar Seminar, guided research in Marianist Studies, program development and delivery, apprenticeship with NACMS librarians, skill development alongside NACMS staff, and opportunities with the Marianist Family.